For the 2007 season of Major League Baseball, the best three or four teams in the game were pretty clearly all in the American League. After spending an entire year living under the fraudulent reign of the 83-win 2006 St. Louis Cardinals, the NL just plain needed to lose. My friend expressed this sentiment perfectly after the final out of the ACLS: "Fuck the Rockies," he said. "They are a nuisance and a goddamn fraud."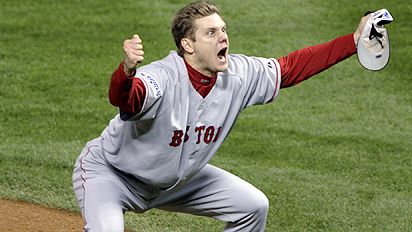 Agreeance. It is well and proper that Josh Beckett & Co. curbstomped those lucky upstart bitches. And since Derek Jeter had already been sent home for the winter without a new WS cockring, it was a pretty good postseason.

But like my esteemed colleague, I am ambivalent about this triumph going, once again, to Red Sox Nation. The first time around, back in 2004, we could all just ignore Bill Simmons for a few months in order to evade the general obnoxiousness emanating from that area. But consider the region's embarrassment of riches this time 'round, and what it's likely to portend. Along with the Sox victory in the Series, plus:

"...Boston College still undefeated, KG moving to the Celtics, and this year's Patriots in the process of becoming the best team in the history of the NFL (and you're deluding yourself if you can't accept the reality of that), we are on the verge of witnessing a perfect storm of douchebaggery emanating from the greater Boston area. We're talking the absolute zenith of self-important fuckfacery."
Indeed. And there's plenty more outstanding RSN spleen-venting where that came from...